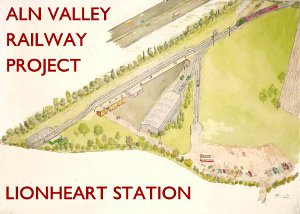 The principal objective of the Aln Valley Railway Trust is the restoration and operation of the railway between Alnmouth and Alnwick, providing an additional tourist attraction for the area and to enlarge the district's tourism offering. This project also aims to develop the railway corridor as a sustainable transport link as well as a recreational and educational resource for the local community and visitors to the area.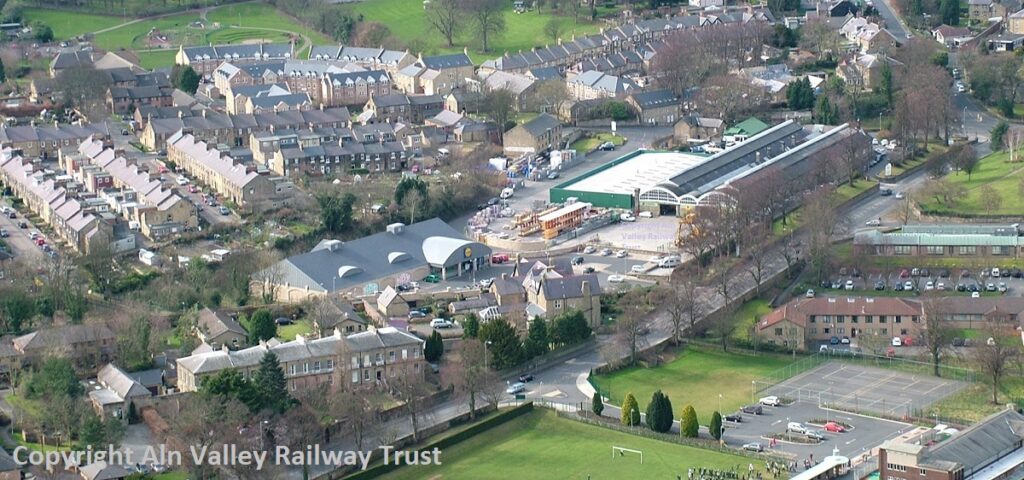 Due to the building of the A1 bypass which cut the original trackbed on the outskirts of the town, and the construction of industrial units and a supermarket on ex-railway land, the costs of getting the line to the original station in Alnwick are almost prohibitive.
Therefore a new station has been built on a greenfield site in Lloyd's Field, adjacent to the Lionheart Enterprise Park just outside Alnwick. The new 'Lionheart Station' is aligned parallel to the A1 from where a single track line joins and follows the original trackbed towards Alnmouth Station, near Hipsburn. Ultimately heritage steam and diesel locomotives will haul trains between the two locations. As an integral part of the project, a permissive cycle path runs alongside the railway line, and will link up with the National Cycle Network at Alnmouth and the A1068 road next to the A1. This provides a safe corridor for cyclists, pedestrians and riders, and has also been proposed to form the basis for an educational nature trail.
Two phases for development were originally proposed; Phase 1 from Lionheart to Greenrigg Bridge and Phase 2 onwards to Alnmouth Station. Track has now been laid to Greenrigg Bridge, and, in a departure from the original idea, a halt has been built there, acting as a temporary terminus until the line beyond and towards Alnmouth can be developed.
Lionheart Station continues to be developed and enhanced. The footbridge, waiting room, water crane, signals and signal box are all replicas based on North Eastern Railway structures. There is a playground with a large climbing frame to keep the little ones occupied, overlooked by a patio area next to the cafe. The cafe, along with the attached shop, was recently redeveloped and expanded, and a wartime allotment over on Platform 2 set up. This year a new goods platform is being constructed, with loading crane. Plans are in hand to construct a new facility for restoring carriages to free up the existing shed for locomotive maintenance.