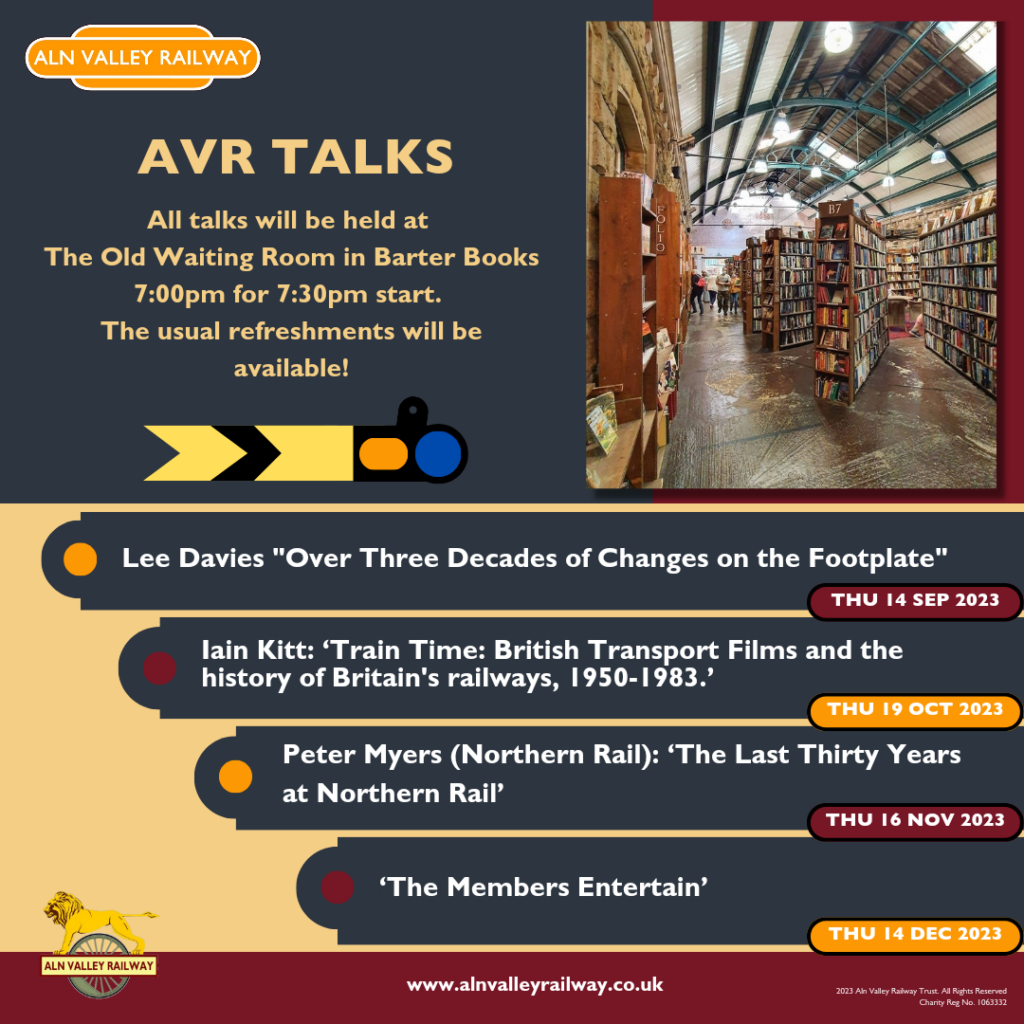 ---
Thanks to everyone who has booked tickets for this years Santa Specials!
🎅 Tickets for all trains have now sold out and Santa and his elves are looking forward to meeting you all!
*𝗧𝗶𝗰𝗸𝗲𝘁𝘀 – 𝗥𝗲𝘀𝗮𝗹𝗲/𝗧𝗿𝗮𝗻𝘀𝗳𝗲𝗿
𝗡𝗼 𝘁𝗶𝗰𝗸𝗲𝘁 𝗺𝗮𝘆 𝗯𝗲 𝗿𝗲𝘀𝗼𝗹𝗱 𝗼𝗿 𝘁𝗿𝗮𝗻𝘀𝗳𝗲𝗿𝗿𝗲𝗱 𝘄𝗶𝘁𝗵𝗼𝘂𝘁 𝘁𝗵𝗲 𝗽𝗿𝗶𝗼𝗿 𝘄𝗿𝗶𝘁𝘁𝗲𝗻 𝗰𝗼𝗻𝘀𝗲𝗻𝘁 𝗼𝗳 𝗔𝗹𝗻 𝗩𝗮𝗹𝗹𝗲𝘆 𝗥𝗮𝗶𝗹𝘄𝗮𝘆.
𝗜𝗳 𝗮𝗻𝘆 𝗽𝗲𝗿𝘀𝗼𝗻 𝗮𝘁𝘁𝗲𝗺𝗽𝘁𝘀 𝘁𝗼 𝗯𝗼𝗮𝗿𝗱 𝗮 𝘁𝗿𝗮𝗶𝗻 𝘄𝗶𝘁𝗵 𝗮 𝘁𝗶𝗰𝗸𝗲𝘁 𝘁𝗵𝗮𝘁 𝗵𝗮𝘀 𝗯𝗲𝗲𝗻 𝗿𝗲𝘀𝗼𝗹𝗱 𝗼𝗿 𝘁𝗿𝗮𝗻𝘀𝗳𝗲𝗿𝗿𝗲𝗱 𝘄𝗶𝘁𝗵𝗼𝘂𝘁 𝘁𝗵𝗲 𝗽𝗲𝗿𝗺𝗶𝘀𝘀𝗶𝗼𝗻 𝗼𝗳 𝘁𝗵𝗲 𝗔𝗹𝗻 𝗩𝗮𝗹𝗹𝗲𝘆 𝗥𝗮𝗶𝗹𝘄𝗮𝘆, 𝘁𝗵𝗲𝘆 𝗺𝗮𝘆 𝗯𝗲 𝗿𝗲𝗳𝘂𝘀𝗲𝗱 𝗲𝗻𝘁𝗿𝘆 𝗮𝗻𝗱 𝘂𝗻𝗱𝗲𝗿 𝘁𝗵𝗲𝘀𝗲 𝗰𝗶𝗿𝗰𝘂𝗺𝘀𝘁𝗮𝗻𝗰𝗲𝘀 𝗻𝗼 𝗿𝗲𝗳𝘂𝗻𝗱 𝗼𝗿 𝗰𝗼𝗺𝗽𝗲𝗻𝘀𝗮𝘁𝗶𝗼𝗻 𝘄𝗼𝘂𝗹𝗱 𝗯𝗲 𝗽𝗮𝘆𝗮𝗯𝗹𝗲.
Prices
Child Ticket £25 (prices held for the last 2 years)
Adult Ticket £7 (ticket price includes a hot drink and mince pie).
Details
Meet Santa and his Elves on board our festively decorated Pacer train!
Travel from Lionheart Station to Greenrigg Halt and return.
Every fare paying child will receive a Drink and Cookie upon arrival and once on board, Santa and his Elves will personally deliver a Specially Selected Gift to each child.
The ticket price also includes a Goody Bag and Festive Craft Activities!
All tickets must be booked through our online booking system at www.alnvalleyrailway.co.uk/tickets
On the day of travel, passengers with pre-booked tickets should arrive at least 30mins before their departure time, to ensure they have enough time to enjoy their refreshments and activities.
Please ensure that you have fully read and understood our terms and conditions prior to booking your tickets. https://www.alnvalleyrailway.co.uk/santa-specials-terms-and-conditions/
We will ensure that all passengers on the same booking will be seated together.
Please note that dogs are not permitted on any of our Santa Special Trains (with the exception of registered assistance dogs)
Discount tickets are not valid on our Santa Special trains.
*Please do not email or message us about reserving tickets as this will not be possible.
---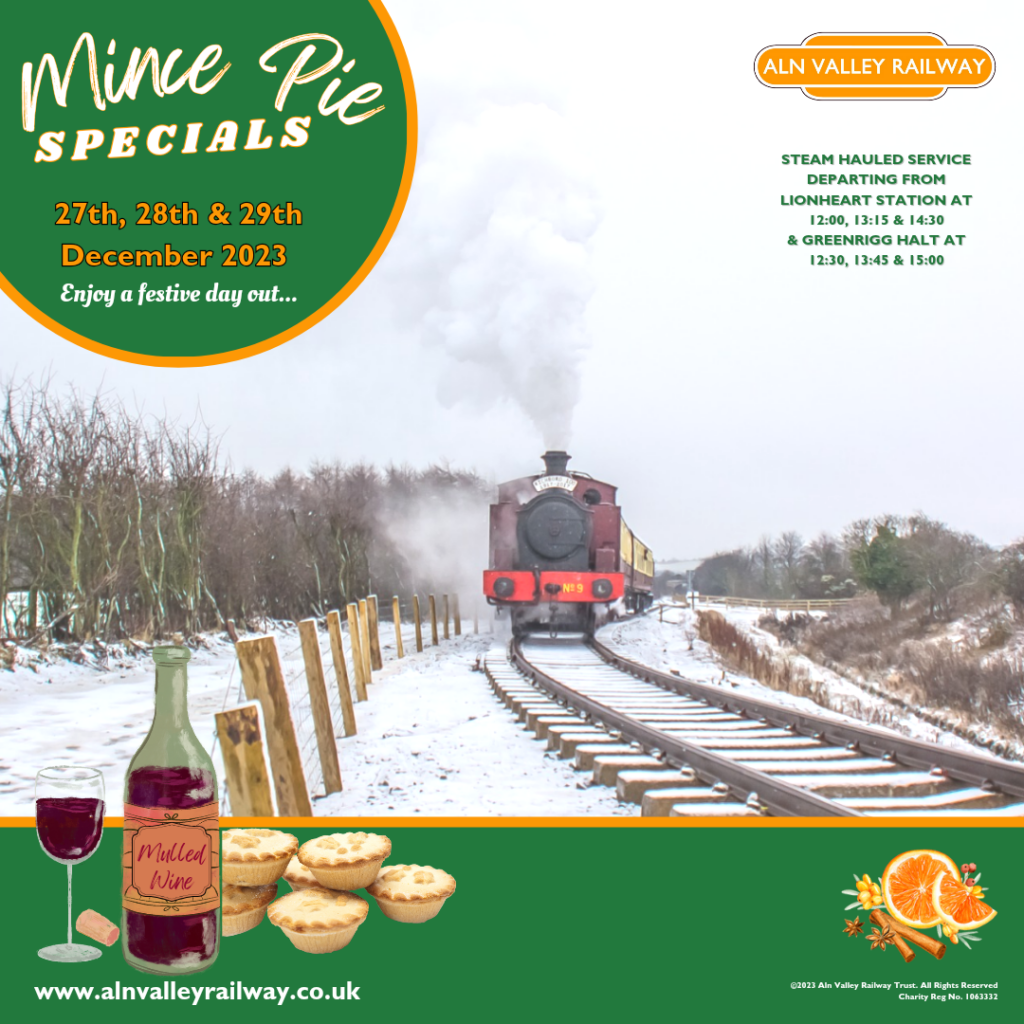 Our Steam Hauled Mince Pie Specials are now on sale!
Join us for our final event of the 2023 season and enjoy a festive visit to the railway between Christmas and New Year.
We will be running 3 return passenger services on the 27th, 28th and 29th December.
Prices
Adult Ticket £10 (price includes a return steam train ride, mince pie and mulled wine (or a hot drink).
Child Ticket £4.50 (price includes a return steam train ride, a sweet treat and a drink).