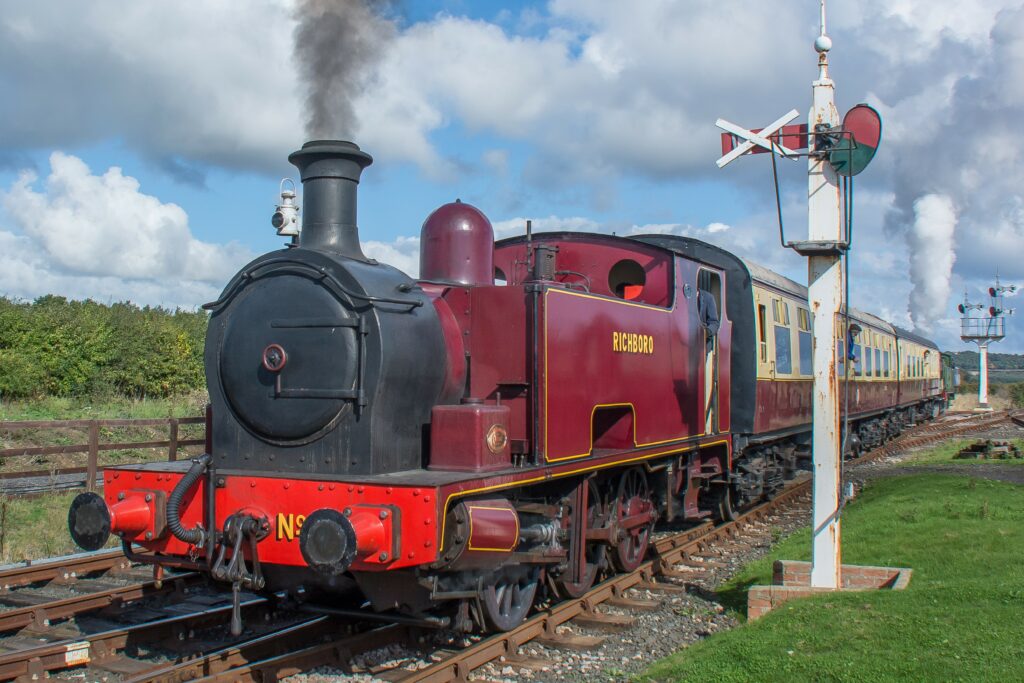 Hudswell Clarke 0-6-0T Works No. 1243 'Richboro'
The Aln Valley's own locomotive, 0-6-0T Works No. 1243, Richboro, was built in 1917 by Hudswell, Clarke and Company at their Leeds works as one of their standard types. It was ordered by the Port of London Authority but delivered to the Director of Inland Waterways and Docks at Richborough in Kent (as IWD NO. 9) for shunting at this World War 1 military port.
By 1926, the locomotive was sold to Messrs. W. Craig and Sons and worked at their Ifton Colliery in Shropshire. In January 1947 the collieries were nationalised and Richboro passed into National Coal Board ownership. It worked later at the NCB's Gresford Colliery near Wrexham in North Wales. By 1969 it was placed in store at Gresford ready for disposal and was then bought by the Llangollen Railway. It spent some time plinthed outside the DAPOL model railway factory at Llangollen.
It was bought by Michael Fairnington and fully restored. After a brief loan period at the Bo'Ness and Kinneil Railway it was moved on loan to Lionheart in December 2012 and was our first operational steam loco. A successful appeal was launched to purchase the locomotive and it is now the property of the AVR.
Hunslet Austerity 0-6-0ST NCB No. 60
Built by the Hunslet Engine Co Ltd of Leeds, No 60 was delivered new on 18th January 1949 to the National Coal Board and put to work on the Lambton Railway, Philadelphia, County Durham. This 0-6-0ST locomotive is one of many built to this design during and after the Second World War. The model became known as the Austerity and was cheap to build and maintain as well as being powerful and reliable. The cab was modified to allow the locomotive to work through narrow tunnels to staithes at Sunderland. This may be the only surviving engine with this modification.
From 1962 the locomotive moved around different colliery locations within Durham, finally moving to Dawdon Colliery in 1965, where it remained until the end of its life with the Coal Board. In June 1976 it was sold to Stephen Wood and moved to the Strathspey Railway at Aviemore in the Highlands of Scotland in July of that year, where it was returned to steam at the beginning of 1980. During its time on the Strathspey Railway it accumulated more than 70,000 miles, some of that hauling 9 coach trains.
When its 10 year boiler ticket expired the locomotive lay idle for many years before being moved to Ian Storey's workshop at Hepscott, near Morpeth. There, the heavy overhaul and boiler repairs were completed. It arrived on long term loan to the AVR in 2018 and regularly operates on our steam services. Sister engine, No 48, is also at the AVR having been generously donated by the owner. It awaits a full overhaul and restoration.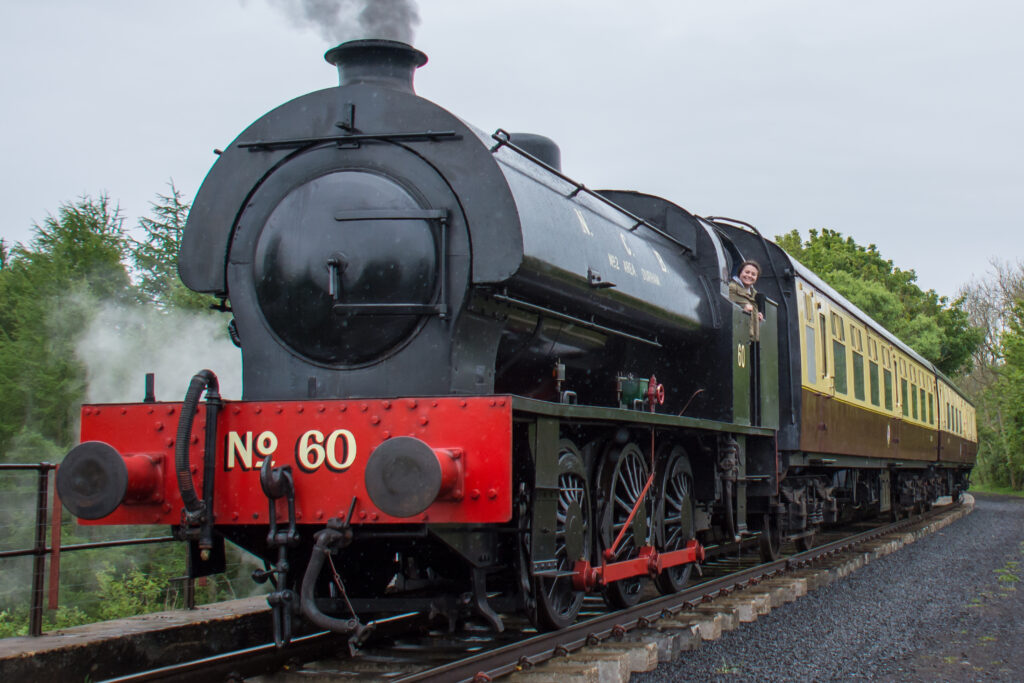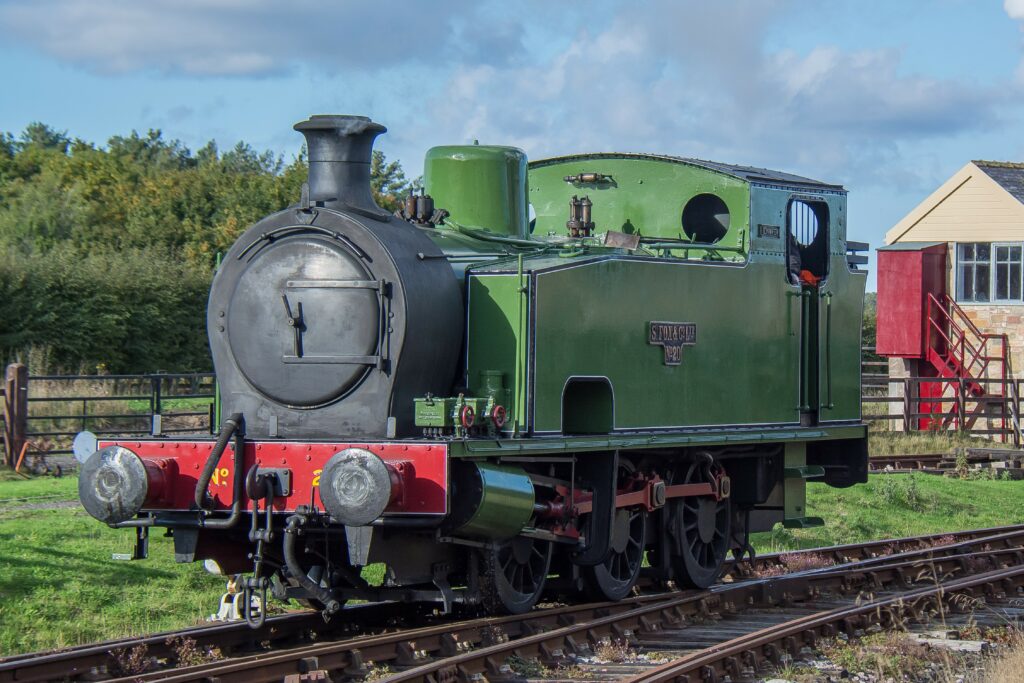 Hudswell Clarke 0-6-0T Works No. 1731 'Jennifer'
0-6-0T Works No. 1731 Jennifer was built by Hudswell Clarke in 1942, Works No. 1731, and it spent its early working life as Samuel Fox & Co Ltd's No. 20. Samuel Fox and Company operated a major steel complex in the Upper Don Valley at Stocksbridge, near Sheffield. In 1967 it became part of the British Steel Corporation upon nationalisation of the industry. By this time, No 20 had been sold to the National Coal Board and was working at the Orgreave Colliery, also in the Sheffield area.
It was bought and preserved by owners Graeme and Jenny Walton Binns in the early 1970s and loaned to the North York Moors Railway in the early days of their operation. It was named Jennifer in honour of Jenny Binns.
When ill health prevented Graeme from completing a major overhaul of the locomotive, it was transferred to the Llangollen Railway to complete the work in 2001. Spiralling costs for the overhaul eventually led to it being donated to Llangollen, who completed the work and subsequently hired the locomotive out to other heritage railways around the country.
Recent financial problems at Llangollen gave the Binns' the opportunity to buy back Jennifer. They have provided it to the AVR on long term loan, arriving in June 2021. Sadly Jenny Binns didn't live to see Jennifer hauling passengers at the AVR, having died suddenly in the autumn of 2021.
Jennifer is a powerful locomotive and is the younger and bigger sister of Richboro, with Richboro being built during World War 1 and Jennifer during World War 2.
BR Class 11, 0-6-0 Diesel Electric Shunter No. 12088 'Shirley'
Locomotive 12088 (named 'Shirley' after the wife of the late AVR member Gordon Hall, who purchased it for the railway) was a member of what became known by British Rail as Class 11. It was one of a batch of such locomotives built from 1945 to 1952 based on an earlier diesel design of the London Midland and Scottish Railway.
12088 was built at Derby Works in 1951. It worked for British Railways at Aston (Birmingham) then later at Rugby, Bletchley, Springs Branch (Wigan) and Allerton from where it was taken out of service in May 1971. After a period of storage it transferred to the ownership of Johnsons (Chopwell) Ltd and used at the National Coal Board Opencast Executive site at Swalwell. By July 1989 it was with the South Yorkshire Preservation Society at Sheffield before returning to Johnsons for work at Widdrington Coal Disposal Point in Northumberland. After transfer to Butterwell Disposal Point it moved to Lionheart in December 2012.
Nine have survived into the 'preservation era', including 12088 at Lionheart; not all are in working order. Shirley has recently completed an extensive overhaul and restoration and the installation of vacuum brakes allowing it to haul passenger trains.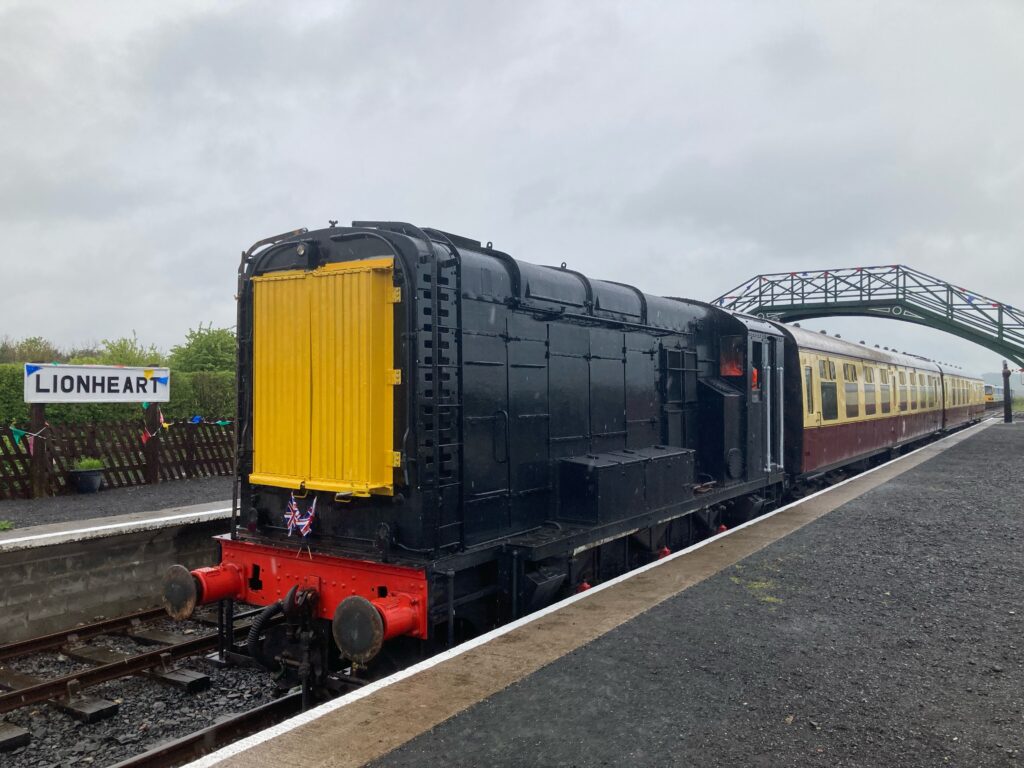 Andrew Barclay, 0-6-0 Diesel Hydraulic No. 615
This locomotive was the first working locomotive to arrive at the Aln Valley Railway's Lionheart site in June 2012. It was built by Andrew Barclay and Sons at Kilmarnock in 1977 and allocated the works number of 603. It has a Rolls Royce 400 horse power engine and hydraulic transmission.
It was purchased new by the National Coal Board and worked at Bates Pit in Blyth, Northumberland. It then worked at Hetton Colliery and underwent trials at Lambton Colliery before being transferred to Whittle Colliery south of Alnwick. While there, it was driven by one of the AVR's volunteers, Kenny Middlemist. In March 1987 it moved to the Ellington and Lynemouth colliery network then passed into the ownership of RJB Mining where it worked at Gascoigne Wood Colliery next to the Leeds to Hull railway. After being purchased for preservation it spent some time at the Tanfield Railway before joining Ribble Rail in Lancashire where it hauled bitumen trains. It is privately owned and on long term loan to the railway.
Drewry 0-6-0 Diesel Mechanical No. 8199 'Drax'
Drax is a diesel mechanical 0-6-0 locomotive built by the English Electric Company at the Stephenson Works in Darlington as works number 8199 of 1963. It has a 195 bhp Gardner engine. It first worked for the Central Electricity Generating Board at its coal-fired Aberthaw Power Station in the Vale of Glamorgan, South Wales.
Later it was moved to the Barlow Royal Ordnance Depot near Selby which was used for moving ammunition, largely underground. In March 1990 the loco returned to South Wales, this time to the Barry Wagon Works before its return to Yorkshire when it became a static exhibit at Drax Power Station in 2000. It was donated to the railway by Drax Power and arrived at Lionheart on 1st December 2012. Following restoration and the installation of vacuum brakes, it is now equipped to haul passenger trains.